More than
50 000

surgeries

The number of surgeries performed by our doctors.
Our eye care center offers a full range of eye health services to clients of all ages, from children to older adults
The optometrists our practice provide eyewear prescriptions and offer corrective laser eye surgery co-management as well.
Eye problems can range from mild to severe; some are chronic, while others may resolve on their own.
We diagnose and manage ocular diseases such as Glaucoma, Macular Degeneration, Diabetic Retinopathy and Cataracts.
If you're ready for an alternative to glasses and/or contacts look to us for co-management of LASIK, cataract, and other ocular surgery.
The Heart and Science
of
Ophthalmology
We need healthy and well-functioning eyes for performing our all routine daily activities like reading, writing, working in kitchen, driving etc but more often than not we tend to take our eyes for granted. We need to understand that our eyes need regular check up to keep them in optimal health. Our team at Tetravue is well equipped to provide a comprehensive clinical evaluation which includes computerized refraction, tonometry, slit lamp examination and fundus evaluation. We are well equipped with the state of art diagnostic instruments like OCT for corneal and retinal diseases, Visual Field analyzer for glaucoma, Optical Biometer for cataract latest tomography for diagnosis of corneal ectasia.
As our Centre's name suggest, ours is a superspeciality eye centre. Our team includes expert ophthalmologist specializing in all sub specialties of the eye. We are competent to provide best comprehensive eye care and treat all types of complex eye ailments.
All types of simple and complex cataract surgeries
Diabetic Retinopathy
Retinal detachment
Age related Macular degeneration
Glaucoma
Uveitis
Infections of eye
Keratitis
Keratoconus
Corneal transplant
Dry eye
Refractive (LASIK) surgery
Contact lenses
Disorders of eye lids
Eyes consultation
$69.99
Ophthalmologists consultation
Complete eye examination
Modern equipment
Laser eye surgery
$499.99
Ophthalmologists consultation
Modern equipment
Postoperative examination
Cataract treatment
$529.99
Ophthalmologists consultation
Cataract surgery
We use only best IOL
Why Choose Us?
We guarantee the highest professional standards and use the proven, pioneering andgame-changing ReLEx smile technique performed with ZEISS VisuMax as well as the mostadvanced lens surgery by the best eye specialists in Delhi.
World class high professional standards of care
Dedicated team of specialist eye professionals
Range of latest and modern diagnostic and surgical equipment
Our Statement
At our family owned eye clinic near Ramesh Nagar, Delhi, we strive to provide our patients with the ultimate eye care experience every time they visit. Check out our Mission and Vision Statement below!
Mission
Our mission is to restore the traditional relationship between the doctor and the patient which has been based on care, faith and trust. Our endeavor is to provide excellent eye care to all with empathy and compassion. We believe that technological innovation and academic knowledge helps us to provide best possible eye care to our patients and we make a continued effort to be abreast with the latest developments in eye care in the world and make a sincere effort to provide what is standard of care for all our clients.
Vision
We envisage that everyone should have access to comprehensive eye care without the barriers of social or financial discrimination. We believe that change is the only constant in life and it is our duty to our customers to give them both "what is time tested" and also "what is latest" so that every patient of ours has access to the best possible eye care.
Our Principles
Our guiding principle is to do ethical medical practice to provide excellent and comprehensive eye care to all with care and compassion at our eye hospital in Delhi NCR.
We Aspire to Excellence
We Embrace Diversity and Community
We Promote Curiosity
Our Community Achieves Through Collaboration
We are Passionately Engaged
Our Philosophy
Our philosophy is to develop a traditional doctor -patient relationship based on trust and faith while providing modern and up to date excellent eye care services using the latest technology and innovations in eye care.
We believe in the power of sight
We believe in each individual's unique vision
We believe in state-of-the-art medical eye care
Ophthalmology Devices
Our Equipment
ZEISS Cirrus HD OCT 500 & 5000
The new CIRRUS HD-OCT models 5000 and 500 are specifically designed to deliver a carefully constructed set of sophisticated applications that build upon one another to deliver rapidly-evolving diagnostics for multiple patient populations.
| Scan pattern | Capture time |
| --- | --- |
| Degrees | College of Surgeons |
| 512 x 128 | 2.4 seconds |
| 200 x 200 | 1.5 seconds |
| 5-Line Raster / Enhanced HD Raster | 0.8 seconds |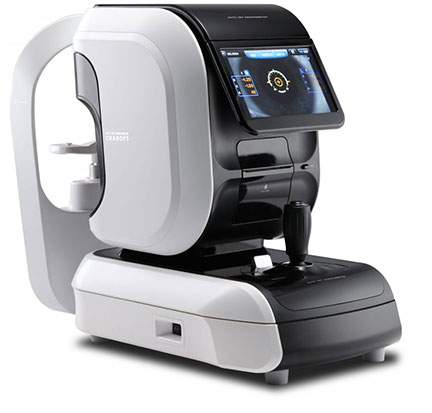 HRK-1 Auto Refractor
Professionals also admire HRK-1's commitment to its fundamental foundation as a quality Auto Ref/ Keratometer, now featuring Smart Assembly Moving Control Technology, and high-performance light source. As eye-diseases and ophthalmologic disorders are increasing, Huvitz is devoting its efforts to think more deeply about the essence of its technology offerings.
Smart Assembly Moving Control Technology
Quick Virtual Aiming Dot Function
Simple up & Down Auto Tracking
Familiar User Friendly Interface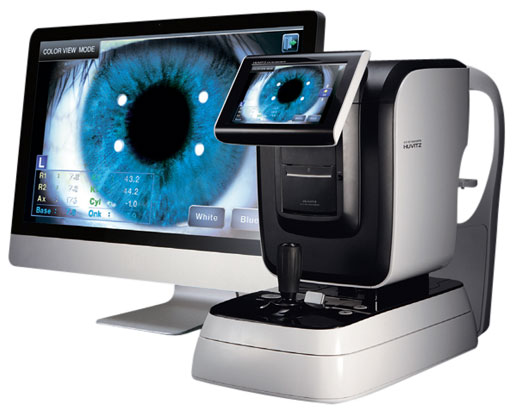 Huvitz HRK-8000A Autorefractor Keratometer
You can customize lenses, play a more active role in managing cataract and refractive surgery patients and more with the HRK-8000A. The HRK-8000A combines the features of an auto refractor, auto keratometer, and wavefront aberrometer into one, high-tech instrument.
Optimized Optical System
Micro Lens Array
Customized Lens Manufacturing
More Data on Aberration Measurement
High Order Aberration Map
Dr. Neha Goel
Dr Neha Goel completed her graduation (MBBS) and post-graduation (MS ophthalmology) from the esteemed Maulana Azad Medical College, New Delhi followed by three years senior residency (super specialisation in vitreoretina)…….
Dr. Mukesh Taneja
Dr. Mukesh Taneja did his Post-graduation and Senior Residency from prestigious Maulana Azad Medical College and Guru Nanak Eye Centre, New Delhi, followed by a fellowship in Cornea & Anterior Segment at world-renowned LV Prasad Eye Institute, Hyderabad in the year 2001-02…..
Frequently Asked Questions (FAQs)
Patients Testimonials
Dr. Neha Midha is superbly talented, disciplined & dutiful Doctor as per my experience with her medical service. I came to Delhi from Bangladesh for my uncle's Glaucoma surgery. We had been stayed in Delhi for 25 days for the recovery. We followed up with her almost everyday and we obeserved that what a Doctor with patience she is! I had gone a check up of my eyes also with her. We are fully satisfied with the medical service of Doctor Neha.
– MR. RAHMANI, DIPLOMAT BANGLADESH
My wife was admitted in the hospital for 3 days under Dr Neha Midha's treatment.
Dr Neha Midha, herself is a kind and absolute professional who knows her craft. Very supportive and someone whose opinion I hold in high esteem.
– Mr. Gurmit